Last Saturday we had a SharePointSaturday event here in Jordan, in which I had the pleasure of interviewing Joel Oleson and Michael Noel for DotNetArabi.
At the end of Joel's valuable interview, which can happen only in a life time, I stopped the recording by hitting the "Stop" button, simple. Surprisingly, instead of stopping the recording, Audacity just froze! I could hear myself screaming inside "NOOO!!!", I guess even Joel heard that! the whole machine stuck that I had to force it to a Hard Shut down.
But knowing Audacity as a great piece of software, which really is, I hoped that I could still retrieve the recording. I rebooted and started Audacity again, and here comes the so refreshing alert at the start: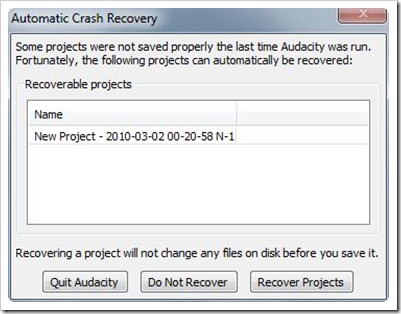 "Some projects were not saved properly the last time Audacity was run. Fortunately, the following projects can automatically be recovered"
THAT is a successful software! of course I lost portions of the recording still, but I can't complain; I have most of the interview. So, When you design your software, DO make sure you don't crash gracefully only, but yet to recover correctly from the crash.